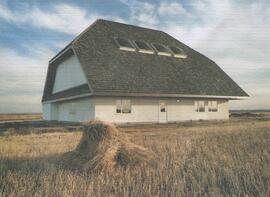 Taste of Ukraine restaurant collection
CA BMUFA 0046
Collection
ca. 1990
The collection consists of the brochure of the Taste of Ukraine restaurant and the menu. The Taste of Ukraine restaurant was located near Chipman, Alberta. The house was originally built by John Wyrha (1908-1911) near Caliento, MB, approximately 10 miles from Vita, MB, near the US border. The house was purchased by Michael and Evdokia Mushaluk, parents of Mrs. Fedoryshyn and then sold to Stephen Fedoryshyn in 1935. Stephen and Mary Fedoryshyn lived in the house until 1967. They had two daughters: Roslyn who married John Bohonos, and Mrs. Stephen Verchomin, wife of Peter Verchomin.
In the summer of 1979, Henry Panych purchased the house and on Labour Day weekend, he and his brother Fred carefully recorded the layout of the house and tagged every timber and material (except the thatch). With the help of two local people the house was dismantled and loaded on a Doucet Transport high boy and hauled to Chipman, AB.
In 1980 the house was assembled in a new location using original timber. The decayed material was replaced. The unique 12 foot chimney was reconstructed by Jim Serink and the rye straw for the thatched roof was made by John Stanko.