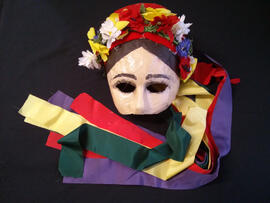 Malanka at the University of Alberta
CA BMUFA 0004
Collection
1973 - 1993
The Faculty Club Malanka collection features memorabilia from the annual Malanka that took place at the University of Alberta Faculty Club between January 13, 1973 and January 1993. Included in the collection are masks, programs and other ephemera related to the festivities. There are 20 masks worn by mummers for Malanka '89. The masks were designed and created in December of 1988 by Meron Sembaliuk with the assistance of his father Paul Sembaliuk. Each mask was handmade, either with papier-mâché or from articles found around the home. Meron organized a group of his friends to take on the various characters associated with the event. Included were: Mark Ferbey (Malanka), Ihor Hlushok (Sun God), Vasyl Maluzynsky (Vasyl/soldier), Shannon Hohol (soldier), and Terry Taciuk (thief). Other characters included: a Bear, a Goat, a Gypsy, a Star, an Old Man, a Bird.
There is also a letter from Dr. Manoly Lupul addressed to the Faculty Club administration outlining menu requirements, plus program menus which were designed and printed by Larisa Sembaliuk Cheladyn. Decorations for the event included unique rushnyky (ritual towels) that were designed and created by Paul Sembaliuk with the assistance of his wife Pat Sembaliuk, and his children Larisa and her husband Mich, sons Philip, Meron, Yuri and youngest daughter Andrea. This collection has the rushnyk specifically worn by Roman Onufrijchuk, the master of ceremonies for Malanka '77.
The first Malanka at the Faculty Club was hosted by Dr. Metro Gulutsan. In the years that followed MC's were invited from within the Edmonton Ukrainian Community and beyond including: Roman Onufrijchuk and Myroslav Kohut.
Sembaliuk family