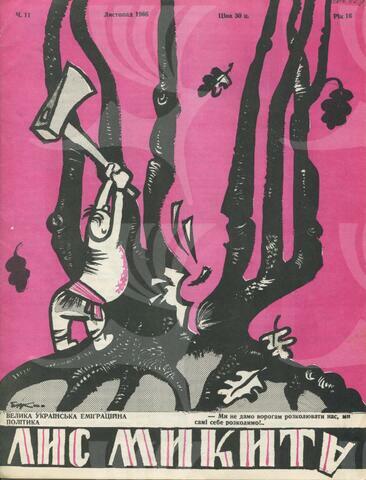 Zone du titre et de la mention de responsabilité
Dénomination générale des documents
Mentions de responsabilité du titre
Zone de l'édition
Mentions de responsabilité relatives à l'édition
Zone des précisions relatives à la catégorie de documents
Mention d'échelle (cartographique)
Mention de projection (cartographique)
Mention des coordonnées (cartographiques)
Mention d'échelle (architecturale)
Juridiction responsable et dénomination (philatélique)
Zone des dates de production
Date(s)
1966-1982

(Production)

Producteur
Zone de description matérielle
Zone de la collection
Titre propre de la collection
Titres parallèles de la collection
Compléments du titre de la collection
Mention de responsabilité relative à la collection
Numérotation à l'intérieur de la collection
Zone de la description archivistique
Nom du producteur
(1902–1992)
Notice biographique
Edward Kozak was born 26 January 1902, in Hirne, Stryi county, Galicia. Caricaturist, illustrator, and painter; feuilletonist, satirist, writer, and editor. He studies at the Vienna Art School (1917) and O. Novakivsky's art school in Lviv (1926), illustrated and edited the satirical periodical Zyz (1926-1933) and Komar (1933-1939) in Lviv, and illustrated the children's magazines Svit dytyny, Dzvinochok (1931-1939), and Iuni druzi (1933-1934) and the books published by I. Tyktor. At the same time, he painted and participated in the exhibitions of the Association of Independent Ukrainian Artists (1933-6) in Lviv.
Emigrating to Germany at the end of the Second World War, he founded the humor magazine Lys Mykyta (1948) and headed the Ukrainian Association of Artists (USOM). In 1949 he settled in the United States, where he worked in animated television films, receiving an award for his work from the National Educational Association in 1957. He resumed publishing Lys Mykyta in 1951, and exhibited his paintings in Detroit, Chicago, Buffalo, Toronto, Edmonton, and Hunter (New York). For a time he illustrated the children's magazine Veselka.
Kozak is best known for his satirical drawings and writings, which amount to a running commentary on political and social developments in the Ukrainian community for over half a century. His caricatures of J. Stalin, which were reprinted in the German, French, Italian, English, Dutch, Polish, and Yugoslavian press, are recognized classics in the field. Many of his paintings deal with folk motifs and display a light-hearted humor and expressive colors; eg, The Market, Sich, Old Inn, and Village. He has published two albums of drawings with witty captions: Selo (The Village, 1949) and EKO (1949). As a satirical writer, he has created the incisive peasant philosopher Hryts Zozulia, under whose name he has published two collections of humorous sketches: Hryts' Zozulia (1973) and Na khlops'kyi rozum Hrytsia Zozuli (According to Hryts Zozulia's Common Sense, 1982). He has written numerous feuilletons and verses under different pen names. Some of the verses are printed in the collection Virshi ironichni, satyrychni i komichni (Ironic, Satiric, and Comic Verses, 1959).
Historique de la conservation
Issues of Lys Mykyta periodical were collected by Orysia Tracz.
Portée et contenu
The collection consists of 147 issues of the satirical and humour magazine "Lys Mykyta" published in Detroit by Edward Kozak. He started publishing it in 1948, after he emigrated to Germany after the WWII. In 1949 he settled in the United States, and resumed publishing Lys Mykyta in 1951.
Zone des notes
Source immédiate d'acquisition
Gift of Ruslan Tracz, son of Orysia Tracz
Localisation des originaux
Disponibilité d'autres formats
Délais d'utilisation, de reproduction et de publication
Note générale
Avalable issues: 1966 Rik 16, Ch. 11; 1967 Rik 17, Ch. 1, 2, 5-12; 1968 Rik 18 Ch. 1-12; 1969 Rik 19, Ch. 3-8, 12; 1970, Rik 20, Ch. 1-4, 6-12; 1971 Rik 21, Ch. 1-2, 4-12; 1972 Rik 22, Ch. 1-2, 4-12 (Ch. 12 has 2 copies); 1973 Rik 23, Ch. 1-8, 10, 12; 1974 Rik 24, Ch. 1, 3-12; 1975 Rik 25 Ch. 1, 3-12; 1976 Rik 26 Ch. 1-5, 7-12; 1977 Rik 27, Ch. 1-10, 12; 1978 Rik 28 Ch. 1-3, 6-12; 1979 Rik 29 Ch. 1-11; 1980 Rik 30 Ch. 2, 4-9, 12; 1981 Rik 31 Ch. 1-8, 10-11; 1982 Rik 32 Ch. 1-5, 12
Identifiant(s) alternatif(s)
Zone du contrôle
Identifiant de la description du document
Identifiant du service d'archives
Dates de production, de révision et de suppression
Langage d'écriture de la description
Objet numérique - métadonnées
Objet numérique (Matrice) zone des droits
Objet numérique (Référence) zone des droits
Objet numérique (Imagette) zone des droits